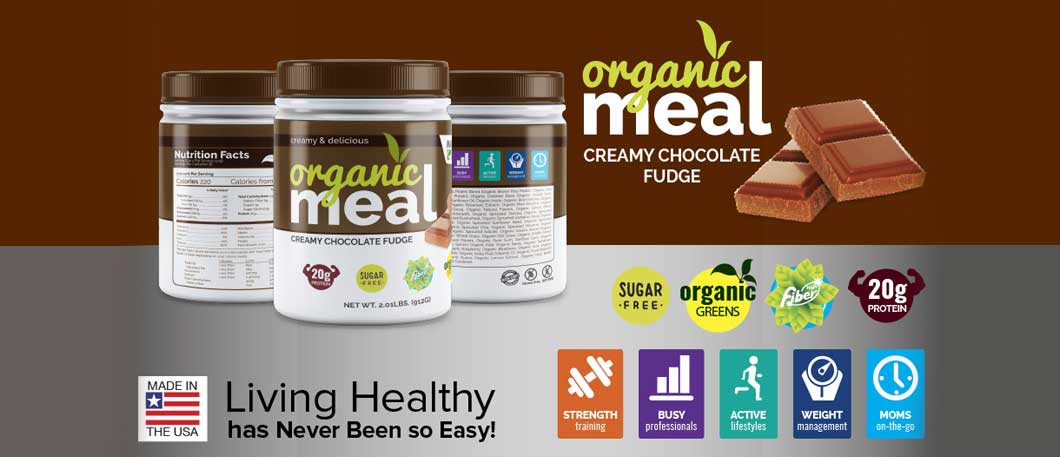 Delicious and Creamy Maximum Slim Organic Protein Meal!
It's a cold-hard fact: if you can't control your hunger and calorie intake, you can't live healthy. Maximum Slim Meal Replacement makes it easy! Customers has reported EXCELLENT RESULTS with MAXIMUM SLIM!
Plus, with our new and improved Chocolate flavor you'll be getting 20g of 100% whey protein. The new all whey formula gives Maximum Slim Meal Replacement a velvety-smooth, rich and thick texture.
Delicious Rich Taste
Smooth, creamy and delicious with only 150 calories and 1g sugar
20g high-quality, all-whey protein helps you build lean muscle when combined with exercise
Convenient and affordable!
Replace 1 or 2 meals a day with MAXIMUM Slim Organic Protein Meal
Replacement to help you see amazing results when combined with a healthy lifestyle and physical activity. In addition to feeling fuller between meals, you'll get daily nourishment with whey protein, fiber, and 22 vitamins and minerals.

Maximum Slim Organic Meal Replacement makes a great base for juices and smoothies. Or keep it simple and just add water!
With Mazimum Slim Organic Meal Replacement, you'll never have to "cheat" on your plan... but it might FEEL like you are!
Most meal replacement shakes dont fill you up enough to get you to your next meal. We use a unique blend of protein and fiber to help get you the results that you seek.
You won't find it in any other shake on the market. It's recommended to take each serving with a full glass of water for best results.
DISCLAIMER:
CONSULT A PHYSICIAN BEFORE STARTING ANY WEIGHT LOSS PROGRAM. MAXIMUM SLIM IS RECOMMENDED TO BE USED IN CONJUNCTION WITH A HEALTHY DIET AND EXERCISE PROGRAM. RESULTS VARY DEPENDING UPON STARTING POINT, GOALS, TIME, AND EFFORT. CONSEQUENTLY, MAXIMUM SLIM DOES NOT GUARANTEE RESULTS.
IMPORTANT: USE ONLY AS DIRECTED. THESE STATEMENTS HAVE NOT BEEN EVALUATED BY FOOD & DRUG ADMINISTRATION. THIS PRODUCT IS NOT INTENDED TO DIAGNOSE, TREAT, CURE OR PREVENT ANY DISEASE. AS INDIVIDUALS DIFFER, THEIR RESULTS WILL DIFFER, EVEN WHEN FOLLOWING THE SAME METHOD. THIS PRODUCT IS RECOMMENDED FOR AGES 18 YEARS AND OLDER. THIS PRODUCT IS SUITABLE FOR WOMEN AND MEN, BUT IS NOT RECOMMENDED FOR PREGNANT OR BREAST-FEEDING WOMEN; CARDIOVASCULAR DISEASE, STROKE PATIENTS, AND ANY OTHER RELATED DISEASES.

****BE SURE YOU ARE GETTING REAL BENEFITS FROM THE REAL PRODUCT. FOR YOUR SAFETY, AVOID ALL FOREIGN BASED WEBSITES AND VENDORS ATTEMPTING TO SELL MAXIMUM SLIM PRODUCTS. ****