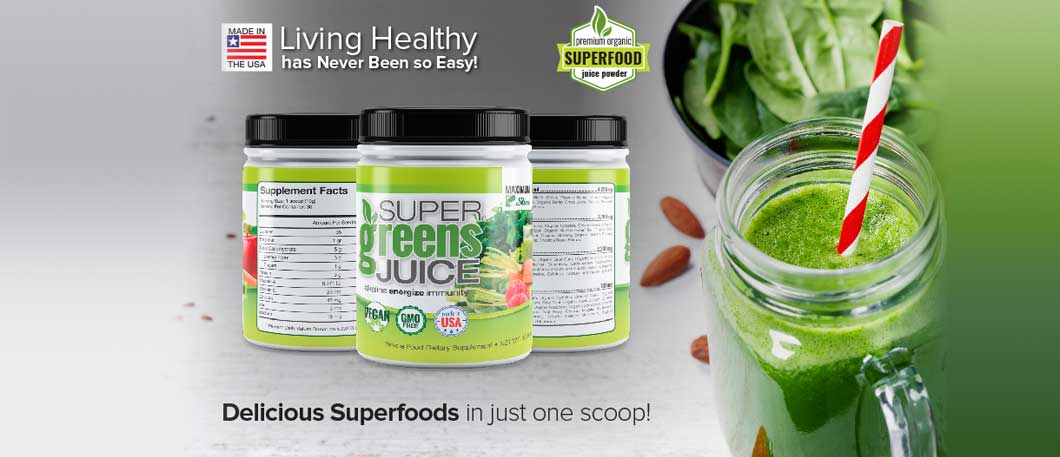 Maximum Slim Supergreens provide foundational nutrition your body craves to support: Increases RAW Energy Organically Grown Wholefood nutrition with enzymes and amino acids Strengthens Immune System Healthy Detoxification Healthy Digestion and Elimination Healthy Blood Sugar Levels.

Maximum Slim SuperGreens Juice Effect in healthier living

Many people desire to have more energy throughout the day, but the snacks and caffeinated products (large amounts of soda drinks) that many consume are high in acid levels and therefore a major reason for increasing of fat cells.
When acidity in tissue is created, blood and body cells, typical snacks and fast food, processed food, yeast containing products, sweets etc. interfere with healthy energy production and will often result in unwanted weight gain.
The reason for that is the body's response to excess higher acidity levels: it will build up fat cells to prevent vital organs from acid waste.
As soon as the acidic source is eliminated, the fat inside the body is no longer needed, and will reduce right away.
How we achieve this?
With Alkaline Food: Alkaline foods are mostly vegetables, especially raw ones. The most alkalizing foods are wheat, alfalfa grasses and fresh cucumber. Nevertheless, limes, tomatoes and avocado also have an alkalizing effect to our body, same as most kind of seeds, tofu, fresh soybeans, almonds, or olive oil.
With Maximum Slim SuperGreens Juice Unique formula is designed to improve the body's overall acid/alkaline levels and supply vital nutrients that the body needs to produce healthy cells and enhance energy levels.
Maximum Slim SuperGreens Juice contains of dozens of different grasses, vegetables, sprouted grains and leaves, and hundreds of minerals, amino acids and vitamins.
42 ORGANIC SUPERFOODS - Gives you complete, clean nutrition in one scoop NON GMO-VEGAN- Dairy Free- ALL Natural
EASY ON THE GO - Ideal for healthy, on-the-go nourishment for busy professionals, moms, athletes and students and kids
GENTLY DETOX CLEANSE -IMPROVES HAIR & SKIN -Provides the Ultimate Nourishment for Healthy & Radiant Skin and Nails
GREAT TASTE - NO added sugar PLEASANT & REFRESHING - Kids like it as well! Easily make green smoothies or simply mix with apple juice or water for a refreshing green drink.
BEST NOURISHMENT - Nourish YOUR BODY WITH THE BEST INGREDIENTS - GREAT TASTE -EASILY MIXED - IMPROVES YOUR HEALTH & ENERGY - GENTLE & NATURAL DETOX
IMPROVE HAIR & SKIN HEALTH - ANTI AGING - BURN CALORIES - 100% SATISFACTION GUARANTEED - Proudly made in the USA
The BENEFITS of Maximum Slim SuperGreens Juice are exceptional, the following effects were reported by many people taking Maximum Slim Super Greens Juice


Sense of fullness and thus less consumption of food.
Food cravings are reduced, especially for foods like bread, sodas, sweets, fatty meats and other highly acidic foods.
Helps to increase in energy, your body feels powered and fit.
Helps to reduces muscle pain and aches after exercising.
Helps to enhance very good sleep.
Visibly clear and smoother skin.
Increased alertness and focus.
DISCLAIMER:
CONSULT A PHYSICIAN BEFORE STARTING ANY WEIGHT LOSS PROGRAM. MAXIMUM SLIM IS RECOMMENDED TO BE USED IN CONJUNCTION WITH A HEALTHY DIET AND EXERCISE PROGRAM. RESULTS VARY DEPENDING UPON STARTING POINT, GOALS, TIME, AND EFFORT. CONSEQUENTLY, MAXIMUM SLIM DOES NOT GUARANTEE RESULTS.
IMPORTANT: USE ONLY AS DIRECTED. THESE STATEMENTS HAVE NOT BEEN EVALUATED BY FOOD & DRUG ADMINISTRATION. THIS PRODUCT IS NOT INTENDED TO DIAGNOSE, TREAT, CURE OR PREVENT ANY DISEASE. AS INDIVIDUALS DIFFER, THEIR RESULTS WILL DIFFER, EVEN WHEN FOLLOWING THE SAME METHOD. THIS PRODUCT IS RECOMMENDED FOR AGES 18 YEARS AND OLDER. THIS PRODUCT IS SUITABLE FOR WOMEN AND MEN, BUT IS NOT RECOMMENDED FOR PREGNANT OR BREAST-FEEDING WOMEN; CARDIOVASCULAR DISEASE, STROKE PATIENTS, AND ANY OTHER RELATED DISEASES.

****BE SURE YOU ARE GETTING REAL BENEFITS FROM THE REAL PRODUCT. FOR YOUR SAFETY, AVOID ALL FOREIGN BASED WEBSITES AND VENDORS ATTEMPTING TO SELL MAXIMUM SLIM PRODUCTS. ****